Because there are so many standards, (Nintendo machines, Taico, Namco, Atari) voor Arcade Nicola Salmoria has bundles most initiatives in the MAME: the Multiple Arcade Machine Emulator. There are 2 mac versions. The old Mac version is called: MacMame. Recently, a new port arrived, which is further, MameOSX. As it is, up todate to 0.118, and has a nice iPhoto like front end, it will probably replace MacMame in the end. Some Sega machines require a different Emulator, the Modeler.

MacMame
Homepage

Modeler
Mame OSX homepage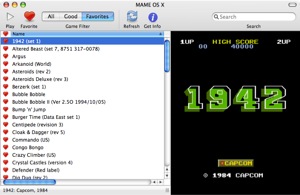 Screenshots for illustrations for Mame can be found at the
Screenshot
Library
Information about the history of the games for use with MacMameis situated on the
Mame Info
and
The history database
. So called
Bezels
can be found on the World of Stuart site. This is artwork that was around the screen of the game.