RG Issue 50
Congrat RG on your 50th issue.
This time about the Dreamcast. There is no good Dreamcast emulator for the Mac yet. Still
LXDream
, a Linux based Dreamcast emulator is working on OSX support (probably intel macs only though)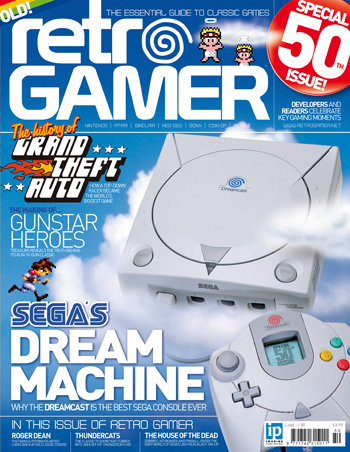 The Dream Machine: Find out why Sega's innovative console didn't stop the Japanese giant from crashing out of the hardware race.
The history of... Grand Theft Auto: one of gaming history's coolest franchises charted.
The making of... Retro Gamer: Martyn Carroll looks back at the making of the original version of the magazine.
Reader special: your favourite gaming moments.
Zombie Nation: Sega's popular series, The House of the Dead, investigated.
Desert Island Disks: Celebrity special!
The making of... Gunstar Heroes: Retro Gamer talks to Treasure about one of its most influential 16-bit shooters.
The big interview: Roger Dean, cover artist for many classic Amiga titles, designer of the Tetris logo, and more, talks to Craig Grannell about his work.
The making of... Great Giana Sisters: Manfred Trenz talks about the C64 game that made Nintendo very angry indeed.